"Our true destiny... is a world built from the bottom up by competent citizens living in solid communities, engaged in and by their places."
Transition Towns Movement
Grey Lynn 2030 is part of the global, grassroots Transition Towns movement. They are communities focusing  on sharing skills and getting stuck in to live more sustainably.  By building local resilience, communities are able to collectively respond to the challenges they face by starting local. And by remembering how to live within our local means, we can rediscover the spirit of community and a feeling of empowerment, belonging and sharing in a world that is vibrant, just and sustainable.
Transition originated in 2004 by permaculture design students at Kinsdale Further Education College in Ireland. Inspired by a course visit from peak oil activist Colin Campbell, the project used permaculture, a form of ecological design rooted in ethics of earth care, people care, and fair shares, to come up with a strategy for the community to prepare itself for life after cheap oil (Hopkins, 2005).
In 2006, Rob Hopkins and a small group of collaborators founded Transition Town founded Transition Town Totnes. Inspired by their work, communities elsewhere began to set up Transition initiatives of their own.
Founded in 2008, Grey Lynn 2030 was established by a small group of people with a strong willingness for action and readiness to promote the idea of a self-sustaining community suburb in the heart of Tamaki Makaurau. With rapid engagement from the wider community, the collectively formed vision for what Grey Lynn could become, was born. The Grey Lynn community created visions  of being able to cater more for its own needs, rely less on oil and imported products and contribute less to climate change emissions. Since then, a number of initiatives and projects have been formed, which have stayed true to this vision initially set out in 2008 with the help of volunteers from the wider community and in collaboration with the Waitemata Local Board.
Grey Lynn 2030 is a participatory community organisation promoting and engaging in building neighbourhood spirit and cooperation while working towards a vision of a self-reliant, positive, resilient, vibrant, connected and sustainable community.
Transition in Aotearoa New Zealand
The transition quickly spread beyond Britain and Ireland, with New Zealand being among the early adopters. Interest took off nationally in 2007, following a visit from peak oil expert Richard Heinberg and two subsequent workshops at the Taupo Ecoshow. Several dozen local initiatives popped up and consolidated after the global financial crisis and subsequent oil price spike. Elsewhere in the country, findings from the recovery from the earthquake that caused severe damage and disruption in Christchurch in 2011 endorsed this view, central to Transition, that positive action at the scale of the local community is a vital part of long-term processes of building resilience.
Check out our Transition Town Neighbours:
For about four years, Grey Lynn 2030 managed informally with minimal funding from donations and fundraising events. In late 2011, the Grey Lynn 2030 Trust Deed was developed and, in May 2012, became the Grey Lynn 2030 Community Trust. Initial trustees were Suzanne Kendrick, Lynn Green, Charlotte Gordon, Pippa Coom, Dianna Tawharu, Chris Olson, Sarah Guppy and Colinda Rowe. Carolyn Cox, Gary Marshall, Finn Mackesy and Mandy McMullin were also part of the initial Grey Lynn 2030 founders group.

Brigitte Sistig - Chair
Brigitte trained originally as educator, which served her in her volunteer work in collectives and grassroots organisations. Her interest is broad and involves exploring ways of bringing people and their environment together, may this be through communication, hands on involvement, research, or collective action. Brigitte joined the GL2030 Trust in 2016 and has been leading several projects, strengthening community resilience in the face of the climate emergency and building a wider network.
Mary-Anne Parker -
Treasurer and Secretary
Mary-Anne has called Grey Lynn her home for the last 7 years. She absolutely loves the place and community and never wants to leave! She believes in progress, not perfection in our journey towards a regenerative future. Through growing awareness of the practical ways people and communities can contribute, we can all incorporate changes into our lives that will make a tremendous collective difference. Mary-Anne joined the GL2030 Trust during 2019, supporting its activities with her expertise as a Chartered Accountant.
Grant Hewison
Grant has lived in and around Grey Lynn with his family for many years and practices as a Barrister and Policy Consultant. He specialises in local government with a focus on Auckland Council. Grant is involved in a variety of advocacy initiatives seeking to address climate change, including the GL2030 Trust since becoming a Trustee in 2020. Grant also plays music with a band regularly at the Grey Lynn Farmers Market on a Sunday morning.
Tom Greer
Tom is a landscape architect and co-founder of the Auckland Library of Tools (ALoT). Grey Lynn 2030 supported the tool library since its early days, and Tom joined the Trust shortly thereafter. He has worked in ecology and conservation, and is interested in finding ways to better integrate the built and 'natural' environments.
Grey Lynn, an inner residential suburb of Auckland, New Zealand, is located three kilometres to the west of the city centre. It encompasses the surrounding neighbourhoods that are in the west side of the Waitematā Local Board area (including Westmere, Ponsonby, Freemans Bay, Herne Bay and St Marys Bay). Grey Lynn is the overarching name for a suburb with four different areas, called by the locals the West Lynn village or shops, Grey Lynn village or Surrey Crescent shops, Arch Hill and Richmond Road.
The Grey Lynn 2030 Transition Community Objectives
The charitable objects of the Trust will be to act as a participatory community organisation within the greater Grey Lynn area promoting and engaging in building neighbourhood spirit and cooperation while working towards a vision of a self-reliant, positive, resilient, vibrant, connected and sustainable community. In particular the Trust shall carry out one or more of the following objects independently or any other object:
Foster a local identity that is associated with sustainable living;
Build local resilience in terms of food, energy, employment, resource management and economics;
Seek out methods for reducing energy usage as well as increasing our own community's;
Foster and support a diversity of projects which emerge from the community via focus groups;
Build networks with and support other organisations and groups consistent with this charitable purpose;
Identify gaps in knowledge related to community resilience and to make available information and methodologies that facilitate positive change within the community.
Raise awareness, care for and enhance the natural resources of water, soil, habitats and wildlife;
Create and maintain social media for our community to inform and to interact with the members of our community as well as with other community groups.
Support and encourage community gardens to bring the community together, provide community composting facilities and local food production;
Act as the point of contact for organisations wishing to engage with their community.
Provide other support and assistance with this charitable purpose; and
To carry out such other charitable purposes within New Zealand as the Board may determine from time to time.
Introduction to what we do
Since Grey Lynn 2030 formed in 2008, we have organised around focus groups that pick up initiatives, projects and events to run with. Many of the focus groups have kicked off ideas that have developed into self-sustaining organisations such as the Grey Lynn Farmers Market.
The Grey Lynn 2030 Trust continues to function as an umbrella group to help promote aligned projects and organisations within the Grey Lynn area such as community gardens and the local waste minimization initiatives. The Trust also organises one-off events with guest speakers.
If you are interested in setting up a focus group or reactivating a group please get in touch. All our activities are the result of work by volunteers committed to our vision.
Overview of Grey Lynn 2030 Activities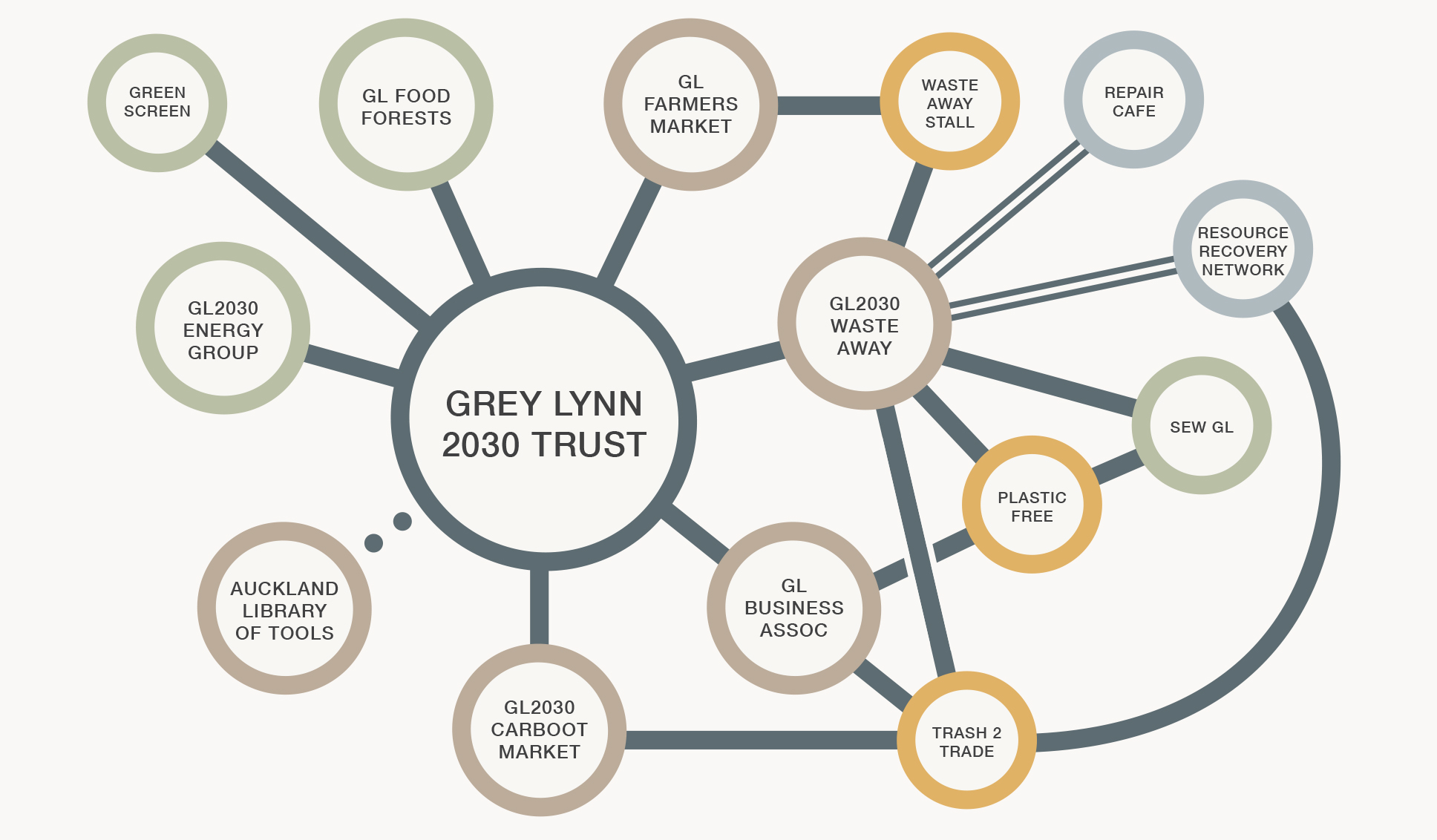 10 Years of Grey Lynn 2030 at a Glance
Grey Lynn Farmers Market
2008/2009*
A weekly market that offers local fresh food and zero waste education
Grey Lynn Waste Away (GLWA)
2008/2009*
An action group comprised of passionate locals, tackling issues aroun waste minimisation and by promoting reduction of food waste and alternatives to plastic.
Wilton Street Community Garden
2008/2009*
A local volunteer group which enjoys community spirit while digging the soil to create edible gardens.
Water
2009*
A group of locals who care about their natural environment and quality of drinking water.
Local Government Group
2009*
A group focusing on writing submissions to Council concerning issues relevant to Grey Lynn.
Traffic Calming
2009* 
In response to West Lynn residents' concerns about the safety of pedestrians and cyclists, the group looked at ways to manage the road environment to ensure motorists' speeds were appropriate for the area.
Green Screen
2009* 
Community movie screenings organised by Grey Lynn 2030 to stimulate discussion and community action.
Grey Lynn Business Association
2010*
A group of local business owners who are committed to sustainable business practice and offer mutual support.
Choir
2011*
A group of locals who enjoy singing and putting on memorable performances at community events.
Energy Focus
2011*
A group of local experts and keen learners, who are committed to finding local solutions to the world energy crisis.
Grey Lynn Urban Environment
2012*
A group focusing on writing submissions to Council concerning the Auckland Unitary Plan.
Plastic Bag FREE July
2014* 
A passionate group of Waste Away members, who link in with the worldwide movement of reducing plastic in our environment.
Trash to Trade
2016/2017*
An initiative that encourages and supports upcycling, focusing on local business waste management and creating upcycling businesses.
RePurpose Community Recycling Centre
2011/2015/2017*
Grey Lynn's 2030's commitment to reducing waste and participating in the Auckland-wide Resource Recovery Network.
Repair Cafe
2017* 
Auckland-wide pop-up events, bringing people together to share practical skills and saving items from going to landfill.
Sew Grey Lynn
2018*
A place where people can come together and make beautiful reusable bags and other items from recycled fabric.
Check out some of our favourite resources