Trash to Trade competition

Trash to Trade Competition
Trash to Trade is an exciting new community initiative that encourages everyone to give up-cycling a try. In conjunction with the Grey Lynn Business Association (GLBA), Grey Lynn 2030 is working with sustainable businesses and the education sector to encourage people to upcycle items that would normally go out in the inorganic collection. Trash to Trade is about moving from discarded to desirable, merging business waste, creativity, business start-ups and upcycling.
The Trash to Trade Competition invited social entrepreneurs and artisans to develop a new product from business waste that others are happy to buy or rent. There were three categories:
Young Makers
For people under the age of 18.
Businesses and established artisans
Established businesses or artisans who already have a presence in the community.
New Designers
Up-and-coming artisans and business school students, who have never previously showcased or sold their work. Establishing both price and demand for the upcycled product is a measure of success.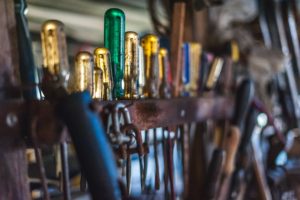 Prizes
First prize for each category is a cheque of NZ$500.00 and a free sustainable business consult with one of the Grey Lynn/ Kingsland Business Association members.
Second Prize for each category offers a mentoring session with members of the Business Associations, as well as vouchers from various sustainable businesses.
Third prize for each category is a whole bunch of vouchers from participating Business Associations, including dining in style for two and more.
How to Enter
If you would like to enter your creations and business plan (not essential for contestants under the age of 18 years) into the Trash to Tradecompetition, simply fill out the details in the form below.
E-mail the entry form to greylynn2030@gmail.com .
Include a 'before' and an 'after' picture of your complete product, showing the raw material and the end-product.
Please also include a written summary (350 words maximum) about how you came to use the raw material, where it comes from (which business stream), why re-purpose, environmental considerations, description of the product, pricing and how you see it being used.
Please provide a brief bio and a high resolution current photo of you/ your group.
If your work is accepted for the Trash to Trade competition, you will then be invited to showcase your creation in a "Dragon's Den" style finale at upstairs at the Grey Lynn Returned Services Club in Grey Lynn on Sunday, the 29thof April, 10 am – 12pm. Further details will be made available to you, then.
[Form id="8″]
Terms and Conditions
All participants must submit a unique product and business plan (not essential for people under the age of 18 years).
Entries are open to the residents of the wider Auckland.
You may enter as an individual or a group.
Participants will need to submit complete entries by 5pm on Saturday, 21/04/2018.
All entries must be accompanied by this entry form and associated documentation as outlined above in the 'How to Enter' section.
All accepted entries will be displayed at the Showcase on Sunday, 29/04/2018. This requires your attendance. The winners will be announced on 29/04/2018.
Grey Lynn 2030, Grey Lynn Business Association and the Waitemata Local Board reserve the right to reject incomplete entries.
The judges' decision is final.