Green Screen Presents: TOMORROW (Part 1)
7pm-9pm Wednesday 14th November at the Grey Lynn RSC, 1 Francis St.
Entry: by donation
Screening of TOMORROW (Part 1)

We are proud to present a screening of TOMORROW (Part 1)
"Start small to grow big, and write a new story for the generations to come." We invite you to come to our next Green Screen "TOMORROW" (Part 1) in support of Grey Lynn becoming plastic bag free. Here's the movie trailer: https://www.youtube.com/watch?v=NUN0QxRB7e0
About the film:
TOMORROW is not just a film, it is the beginning of a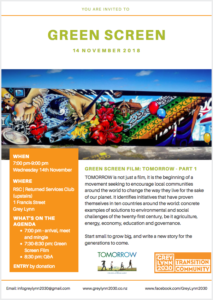 movement seeking to encourage local communities around the world to change the way they live for the sake of our planet. It identifies initiatives that have proven themselves in ten countries around the world: concrete examples of solutions to environmental and social
challenges of the twenty-first century, be it agriculture, energy, economy, education and governance.A Plastic Ocean documents the newest science, proving how plastics, once they enter the oceans, break up into small particulates that enter the food chain where they
attract toxins like a magnet. These toxins are stored in
seafood's fatty tissues, and eventually consumed by us.
Are you on Facebook? Visit our event page here.