Positive Vision and Practical Action
Grey Lynn 2030 is a local response to the ideas of the Transition Towns initiative. It is a focal point for locals to lead and get involved in projects that help build a resilient and sustainable local community.
"Never doubt that a small group of thoughtful, committed citizens can change the world; it's the only thing that ever has."
Margaret Mead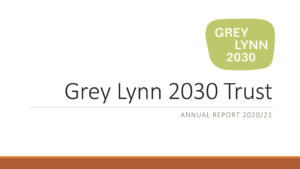 On Wednesday, the 12th of May 2021, the Grey Lynn 2030 Trust held our AGM. We are happy to share…
Read more
Newsletter sign up
Sign up with your email address to receive news and updates.
See our previous newsletters