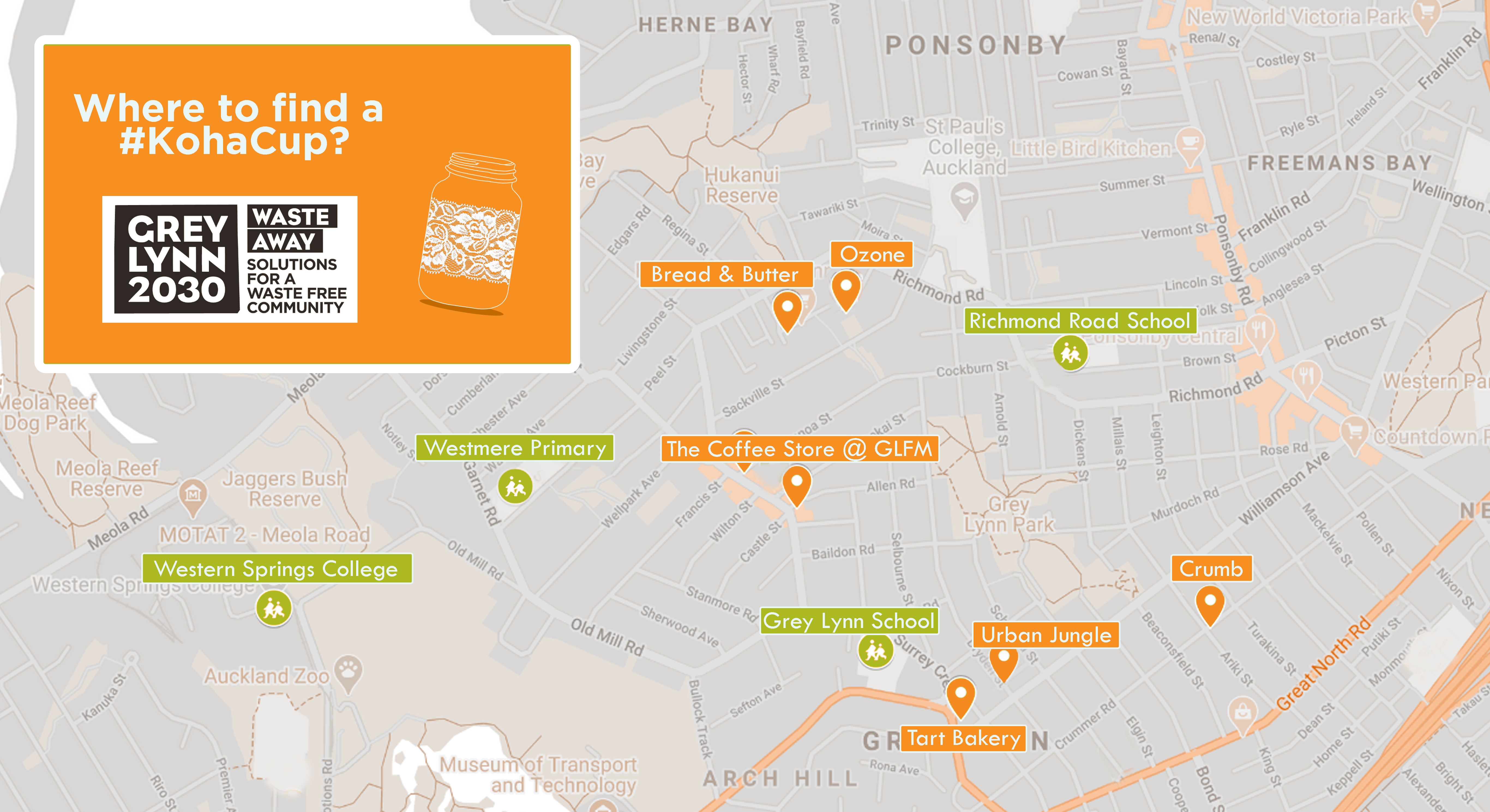 Watch the Cup Project video here for a quick explanation and how-to!
The Cup Project is bringing together Grey Lynn locals, who share concerns about the environment and their future, in a unique community venture which aims to reduce waste going to landfill. To make this a true village experience, Grey Lynn 2030 Waste Away is collaborating with six participating cafés (Ozone, Tart, Crumb, Bread & Butter, Urban Jungle and the Coffee Store at the Grey Lynn Farmers Market) and local schools, sustainable businesses and several Auckland-wide organisations.
Get down to one of the participating cafes between July 1st and August 26th to get a #KohaCup and support the movement against single-use takeaway cups in our hood!
In order to measure the impact of this community venture, the Cup Project is framed within an 8-week feasibility study and will include a report for other communities to use should the wish to replicate this initiative.
Engagement with the community embraces the philosophy of the gift economy, where people who are concerned about waste and climate emergency offer their skills and resources to create a desirable object. This offers cafe customers the option to refuse a single-use cup, and instead choose an attractive environmentally friendly #KohaCup for free.
The Cup Project presents the opportunity to demonstrate how partnerships between businesses and community organisations can result in the development of healthy, resilient communities. The underlying principles of the Cup Project are building neighbourhood and generating environmental and social awareness by creating a beautiful, environmentally sound product to use every day, deserving of respect and care by the recipient of the free, gifted #KohaCup. This in turn will invite respect for the maker and increase awareness of one's actions, and their broader environmental and social impact, encouraging collective action.
It can be as easy as having a conversation over a cup of coffee about how to creatively eliminate single-use items from our lives, live more sustainably, and take action in the face of the climate emergency.
Take a photo with or of your #KohaCup and tag us on Facebook or Instagram using the hashtag #KohaCup
#Refuse #Reuse #Recycle #Upcycle #notowastenz #takeawaythrowaways #KohaCup
To keep in touch with us and find out what's on in our 'hood, you can subscribe to our monthly free newsletter, or like Grey Lynn 2030 on Facebook or Instagram.